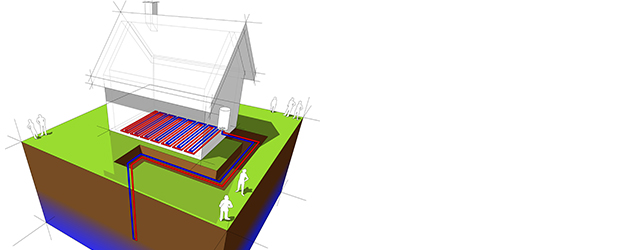 Heat your home with energy from the ground
CB Renewables ground source heat pumps work by collecting energy from the ground. The pump circulates mixture of water and glycol solution around a loop of pipe, absorbing heat from the ground. This is then passed through a heat exchanger and concentrated into a higher temperature for the home. Like air source heat pumps, these pumps produce space heating and domestic hot water, and the energy is constantly being renewed.
Ground source heat pumps can be installed with either a vertical bore hole or ground loop trench system, depending on the space available at your property.
They are a perfect solution for properties off the gas network, which are reliant on oil fired, imported gas or coal boiler and volatile fuel prices.
The Government's Renewable Heat Incentive has been introduced for commercial and public sector buildings and will launch for the domestic market in 2012. This incentive constitutes a quarterly 'tariff' payment for every kilowatt hour (kWh) of renewable energy produced, payable for 20 years.
The Department of Energy and Climate Change has also announced that from 2011 ground source heat pump installations, as well as domestic solar thermal and air source installations, will be eligible for the one off Renewable Heat Premium payment.
More information?
Whether you are looking for energy saving ideas for your home or business talk to one of our team today on 0151 547 7606, or alternatively complete the form for a FREE no obligation quotation.