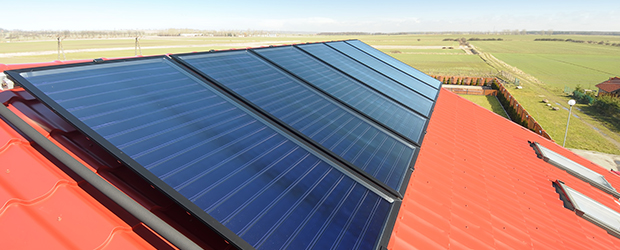 Heat water for your home using energy from the sun
Unlike solar PV, solar thermal systems produce hot water instead of electricity. With a solar thermal system you can reduce your energy bills as well as your carbon footprint.
Solar panels – called collectors – are fitted to the roof of a building or suitable land, collecting heat from the sun and using it warm up water which is stored in a hot water cylinder. There are two types of solar water heating panels – evacuated tubes and flat plate collectors. Flat plate collectors can be fixed on the roof tiles or integrated into the roof.
A boiler or immersion heater can be used as a back up to heat the water further to reach the temperature set by the cylinders thermostat when the solar water heating system does not reach that temperature.
More information?
Whether you are looking for energy saving ideas for your home or business talk to one of our team today on 0151 547 7606, or alternatively complete the form for a FREE no obligation quotation.